DEMONSTRATOR
Occitania region
France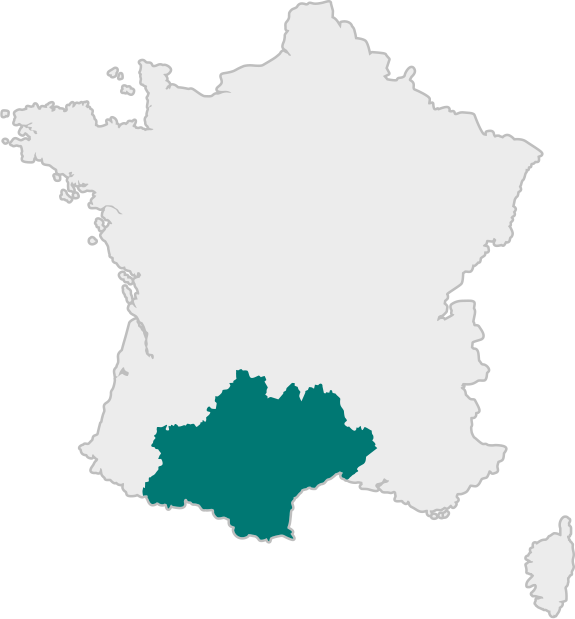 Occitania is the 2nd biggest region in metropolitan France (72,724 km2), spanning over 13 departments.
Occitania is one of few parts of France to have it all: the sea, with the Mediterranean coast; the mountains, with the Pyrenees; the city, with its two large metropolitan areas Toulouse and Montpellier, and the countryside.
Toulouse is the one of the world's aeronautical capitals.
Occitania ranks 1st in France and Europe for agrifood systems and diverse produce bearing the quality labels (AOC/AOP, Red Label, IGP) and one of the biggest wine-making regions in the world with its 80 appellations.
CLIMATE CHANGE CHALLENGES
Climate change is leading to an intensification of urban heat island phenomena in the major cities of the region. This results in higher temperatures within the city compared to neighboring rural areas. This phenomenon results from the storage of heat in the city, resulting from solar radiation and anthropogenic activities, sources of heat. Urban heat has significant impacts on the comfort, well-being and health of the population.
Agricultural areas of the region are generally affected by water stress issues due to heat waves and dry spells. Some rivers and lakes dry up for several months of the year, raising questions about the management of water resources, which are increasing with the impacts of climate change.
Climate change intensifies coastal erosion phenomena around the Mediterranean coast, which then induces water salinization problems in some areas.
VALORADA, in collaboration with TerraNIS, will focus on:
The assessment of the risks for the agriculture and viticulture regional sectors in hot summer periods and lack of water for irrigation; evaluation of the efficiency of the already planned adaptations measurements,
Heat islands identification in urban areas (Toulouse metropole) and potential impacts on the vulnerable population; assessment of the improvement expected from vegetation,
Assessment of the risks linked to water level increase in the Mediterranean coastal zone: impact on the soil contents evolution and on the water salinity and on the local agriculture performance.